B2B Sales & Partnerships
·
Barcelona
Junior Key Account Manager mercado español (H/F) - Prácticas - Barcelona
We usually respond within a week
Somos papernest
¿Nuestra ambición? Ser la única plataforma para gestionar todas las suscripciones en un solo click. 
Desde nuestros inicios en 2015 no hemos parado de crecer: ya somos 1000 empleados, 1M clientes, trabajamos en 5 mercados europeos y tenemos oficinas en París, Reims, Barcelona y Varsovia. ¡Cada año doblamos nuestro tamaño y esto no acaba aquí: seguimos expandiéndonos a nuevos mercados! 
Estamos orgullosos de ser de las top 120 French Tech Startups y sabemos que todo gran éxito se consigue gracias a un gran equipo. ¡Aquí puedes ver más sobre nuestros equipos!
Para hacer frente a estos retos, estamos reclutando a un Junior Key Account Manager para realizar unas prácticas en Barcelona.
De hecho, cada día, nuestro departamento de ventas se encarga de convencer a nuevos socios  del sector inmobiliario para que se unan a la red de afiliados, con el fin de crear 
relaciones largas y sólidas con las nuevas asociaciones.
Tu rol: incorporar, desarrollar, retener y reducir la pérdida de clientes de nuestra red de socios, estructurar el Account Management de papernest España.
Tu rol será
Apoyar a educar, desarrollar y supervisar de cerca tu cartera de socios.
Aprender a escuchar la voz del cliente: realiza un seguimiento de los comentarios de los clientes y participa en la creación de funciones que satisfacen sus necesidades.
Evitar y minimizar la disolución de las asociaciones mediante la implementación de estrategias de retención automáticas.
Trabajar con los equipos de Marketing, Producto y Operaciones para mejorar nuestros procesos.
Ser parte de "side projects" para desarrollar otras habilidades transversales.
Perfil deseado
Apasionado de las relaciones con los clientes,  aprenderás a construir relaciones con tus clientes y equipos fácilmente.
Eres creativo, analítico y tienes la capacidad de dar respuestas simples a problemas complejos.
Eres organizado, capaz de gestionar varias tareas y priorizar tus acciones.
Ya has utilizado herramientas CRM (Hubspot/Salesforce o otras) y tienes un buen conocimiento de las herramientas de gestión de clientes.
Tienes disponibilidad de jornada completa
+ Si también hablas francés
Que podemos ofrecerte
💼 Óptimas condiciones de trabajo
Increíble oficina en Barcelona, en el corazón del 22@ (1500 m2 de terrazas ajardinadas, duchas, zonas con comedor y área de descanso, jardín zen, zona de juegos, etc.) ¡A 5 minutos de la playa del Poblenou! 🏖️ 
Posibilidad de teletrabajo 1 día a la semana (incluyendo lunes y viernes)
Café y té gratis.
Paperparty cada mes para relajarse también 🎉
Desayuno gratuito todos los martes 😋
💪 Grandes retos profesionales

Compañeros brillantes 
Ambiciosas perspectivas de desarrollo / movilidad interna
Programas de desarrollo de carrera 
Ambiente internacional
Formación recurrente 
Eventos de empresa y de equipos 
Proceso de selección
Una primera llamada con un miembro del equipo de KAM 
Una segunda llamada con Role Play con un Manager del equipo
Una tercera y ultima llamada con el objetivo de conocerte mejor y que tengas la posibilidad de demostrar que quieres este puesto.
Si esta es tu oportunidad, ¡no la dejes escapar!
Queremos conocerte, no importa tu sexo, raza, edad, religión, discapacidad u orientación sexual. Nuestros procesos de selección e instalaciones son inclusivos y adaptados para todas las personas, ¡la diversidad es una ventaja para nuestros equipos!
Department

Locations

Barcelona

Type of contract

Internship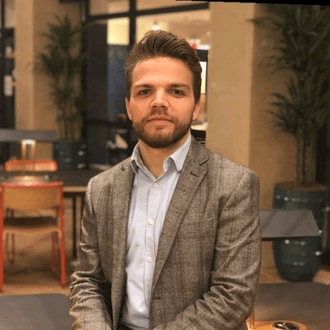 Contact
Geoffrey Hoingne
Head of Account Management & Customer Success – B2B Sales & Partnerships
About papernest
Founded in 2015, papernest is a French startup and member of the French Tech 120, which helps individuals manage their contracts and subscriptions on a daily basis.
Our platform enables individuals to combine, terminate and subscribe to all their housing contracts - electricity, gas, internet box, mobile, home insurance - in just a few clicks.
Today, housing contracts; tomorrow, all those of daily life: transport, streaming, gyms, etc. papernest's ambition is to become the platform from which anyone can centralise, optimise and terminate all their subscriptions.
Since 2015, papernest has grown considerably: more than 1M customers, 1000 employees, 4 markets in Europe and offices in Paris, Barcelona, Reims and Warsaw.
B2B Sales & Partnerships
·
Barcelona
Junior Key Account Manager mercado español (H/F) - Prácticas - Barcelona
Loading application form
Already working at papernest ?
Let's recruit together and find your next colleague.