B2B Sales & Partnerships
·
Barcelona
Junior Key Account Manager marché français (H/F) - Stage - Barcelone
We usually respond within a week
Nous, c'est papernest.

Notre ambition ? Devenir la plateforme numéro 1 dans la souscription et la gestion des contrats, et tout ça en un clic.
Depuis notre lancement en 2015, nous n'avons pas arrêté de grandir : nous sommes déjà 1000 collaborateurs, avons accompagné plus d'un million d'utilisateurs, nous sommes présents sur 5 marchés en Europe et avons des bureaux à Paris, Reims, Barcelone et Varsovie. On double de taille chaque année et nous ne sommes pas prêts de nous arrêter ! De nouveaux marchés sont lancés à l'heure même où nous parlons. 
Nous sommes fiers de faire partie des 120 startups de la French Tech et nous sommes convaincus que chaque succès vient principalement de nos équipes. Ici, tu peux en savoir plus sur nos équipes !
Pour relever ces défis, nous recrutons un(e) Junior Key Account Manager (H/F) en stage à Barcelone.
En effet, chaque jour, nos Inside Sales convainquent de nouveaux partenaires de rejoindre le réseau d'affiliés de papernest. Afin que ces nouveaux partenariats se transforment en des relations solides et durables, nous avons mis en place une équipe d'Account Managers. Son rôle : onboarder, développer, fidéliser et réduire l'attrition (le churn) de notre réseau de partenaires. 
Tes missions
Tu participes à l'accompagnement d'un portefeuille de partenaires de près avec ton manager.
Tu apprends à écouter les clients : tu remontes les retours des clients et participes à la création de fonctionnalités qui répondent à leurs besoins.
Tu collabores avec les équipes Marketing, Produit et Opérations afin d'améliorer nos process.
Tu es mobilisé(e) sur des "sides projects" pour développer d'autres compétences transverses.
Profil recherché
Tu souhaites apprendre et te former à la relation client, tu as un excellent relationnel et tu es capable de nouer facilement du lien.
Débrouillard(e), tu analyses rapidement, avec une capacité à donner des réponses simples à des problèmes complexes.
Tu es organisé(e), capable de gérer plusieurs tâches et de prioriser tes actions.
Tu as déjà utilisé des outils de CRM (Hubspot/Salesforce ou autre) et tu as une bonne maîtrise des outils de gestion clients.
Tu parles parfaitement le français ! 
Ce que papernest offre
‍💼 De super conditions de travail

D'incroyables bureaux à Barcelone, au cœur du 22@ (1500 m2 de terrasses aménagées, douches, espaces dédiés à la restauration et au repos, jardin zen, espace jeux, etc.) à 5 minutes de la plage de Poblenou ! 🏖️ 
Télétravail possible 1 jour par semaine (dont lundi et vendredi)
Café et thé gratuits à volonté !
Paperparty chaque mois pour aussi savoir décompresser 🎉
Petit déjeuner offert tous les mardis 😋
💪 De beaux challenges professionnels

Des collègues brillants au milieu desquels progresser
Des perspectives d'évolutions ambitieuses / mobilités internes
Programmes d'accompagnement de carrière
Une atmosphère internationale
Des formations d'équipe récurrentes
Des événements et team building réguliers 
Ton Manager
Ton manager sera Cyril. Après avoir vécu dans le Sud et le Nord de la France, il a décidé de partir à Barcelone pour retrouver le soleil de Nice & la convivialité de Lille. Chez papernest depuis 2 ans, il met en avant ses compétences commerciales et analytiques pour craquer le marché immobilier et bancaire. Toujours plein d'énergie à transmettre et de connaissances à partager, il a pour objectif de te faire monter au maximum en compétences! (que ce soit au travail ou sur un terrain de padel!)
Processus de sélection
Un premier appel par un membre de l'équipe Talent Acquisition
Un entretien en visioconférence et un cas pratique par un membre de l'équipe Key Account Manager
Un dernier entretien en visioconférence par un manager
Si ce challenge est le tien, n'hésite pas une seconde !
Nous avons hâte de te rencontrer et cela peu importe ton âge, ton sexe, tes origines, ta religion, ton orientation sexuelle, ou ton handicap. Nos processus de sélection ainsi que notre environnement de travail sont adaptés à tous. La diversité est un atout au sein de nos équipes !

Department

Locations

Barcelona

Type of contract

Internship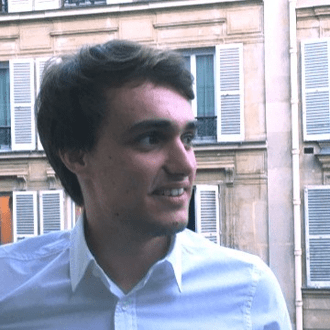 Contact
Théo Laporte
Key Account Manager – B2B Sales & Partnerships
About papernest
Founded in 2015, papernest is a French startup and member of the French Tech 120, which helps individuals manage their contracts and subscriptions on a daily basis.
Our platform enables individuals to combine, terminate and subscribe to all their housing contracts - electricity, gas, internet box, mobile, home insurance - in just a few clicks.
Today, housing contracts; tomorrow, all those of daily life: transport, streaming, gyms, etc. papernest's ambition is to become the platform from which anyone can centralise, optimise and terminate all their subscriptions.
Since 2015, papernest has grown considerably: more than 1M customers, 1000 employees, 4 markets in Europe and offices in Paris, Barcelona, Reims and Warsaw.
B2B Sales & Partnerships
·
Barcelona
Junior Key Account Manager marché français (H/F) - Stage - Barcelone
Loading application form
Already working at papernest ?
Let's recruit together and find your next colleague.